---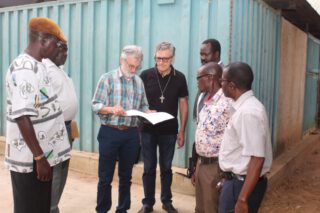 https://www.youtube.com/watch?v=qpMb0cayYok
The Board of Governors on the 24th of November 2022, launched the construction of a Neonatal Intensive Care Unit at hospital site, next to the maternity ward which is housing the currently overwhelmed neonatal unit. This ground breaking ceremony followed the routine Board of Governors meeting which took place earlier in the day.
Representatives from the technical department, administration, PHC, maternity, and school assembled to witness the memorable event as the bishop's pickaxe dug the first hole into the ground, followed by the chairperson Board of Governors, the country director CUAMM and the representatives.
Speeches from the guests and the administration followed as the audience smiled in ecstasy. The ceremony was later concluded by a blessing from Rt. Rev. Damiano Giulio Guzzetti M.C.C.J, Bishop Moroto Diocese.
"…they saw already the need…"
We all know, a building is one-time expenditure, but then the continuation, the running, the upkeep of such a unit is another thing. It is good that at the beginning, CUAMM is considering to offer support, e.g., salaries for additional staff, maintenance, etc.
We have already a very small neonatal unit within maternity; functioning very well, only that it is really too small, when up to about seven children have to be cared for in this very small space.
Equipment has been already supplied by CUAMM. They saw the need and they quickly mobilized funds for these little babies. It is not just today that CUAMM comes to our aid. It has been a long way together with other initiatives. Chairman has hinted that they supported our surgical team, our tuberculosis ward, the outreaches, and many activities with the community, even helping us with community dialogues.
There are many activities which CUAMM has been supporting right from the beginning and continues to support. We have been together for years and it is fantastic to see what has been achieved. Greetings to the people of the Irish Embassy, who are availing the funds. We haven't met them yet but for sure they'll come one day.
Br. Günther Nährich – Administrator Matany Hospital
"This is one of the many efforts we are trying to do to improve care for new-borns in Karamoja…"
This is the beginning of a service, or rather the beginning of an action which will lead to improvement of services for newborns in Matany and in the district of Napak; because, one thing that goes unnoticed is really the problem of newborns in this country. We all know malaria, diarrhea, tuberculosis, pneumonia and so on, are killing children, but we never realize how many children die because of those newborn conditions; the diseases that affect children between 0 and 28 days of age. There are so many of those conditions that take away children at that age.
If you analyse the data from Uganda right now, of the children we lose before five years of age, most of them -about 40%- are lost within 0 to 28 days. So, if we can make them survive those 28 days, they are more likely to survive the five years and even beyond, that is why it is increasingly important for us to pay attention to the diseases that affect children while they are that young. They are not necessarily ordinarily diseases; they can be just complications of birth, just due to the fact that they are born too small, or due to the fact that they are born before the right time. Those conditions are taking a lot of our kids.
Matany Hospital is taking the right direction to try and focus attention on that need. This is one of the many efforts we are trying to do to improve care for new-borns in Karamoja. We will do a similar exercise in Kaabong and Moroto Hospitals. Although we may not have the buildings there, we will have the equipment, the staff training and other things that are necessary to improve the service.
We have realized that when you do this, the children come. Be prepared to have very many children coming, why I say this is; we built a similar facility in Aber hospital in Oyam. Oyam is one of the 9 districts of Lango sub-region. Right now, of the children in that age bracket, 60% from the whole region are taken care of in Oyam. So, it is imminent that you are likely to get to the same situation; that 60% of the new-borns from the whole of Karamoja sub-region, with such problems may actually end up being managed here, because they will be referred. Although we may be starting with a building that looks a bit big, like we said for the church, it might become small, but of course we are not going to add another one. We will just hope that we support the other districts to have a similar facility, so that Matany is not overwhelmed.
Thank you very much for accepting this addition of service to the hospital. I know there was already some care for new-borns, but the space and the equipment were really not adequate.
Dr Lochoro Peter – Country Director, CUAMM Uganda
"…we shall make sure that we make use of this facility to the best of our ability…"
I would like in the first place to thank CUAMM for the continuous support they have given to this hospital and other medical units in Karamoja. They have shown that they have interest in saving children to ensure that these children grow up as adults in a healthy manner. This is not the first service that you are giving us here in Matany. It is just an extension of the activities that you have already been doing; And for us, as recipients of this, we shall make sure that we make use of this facility to the best of our ability, not only to please you but also to please God, that is what we shall do on our side.
Mr. Abul Paul – Chairperson Board of Governors
"…they may grow up to be the future of this country…"
Sending a word of gratitude to CUAMM and the administration of Matany at large as well, I would like to extend a word of blessing for this new building that is now coming up, that the blessing may be extended to the workers, the patients, the newly born. That they may grow up to be the future of this country in the best way possible.
The lord be with you (and with your spirit) may the almighty God bless you the father the son and the holy spirit, AMEN.
Bishop Damiano Guzzetti – Moroto Diocese
---